We offer same day denture repair / immediate denture repair. Metal fee flexible partial and 24 hour denture repairs.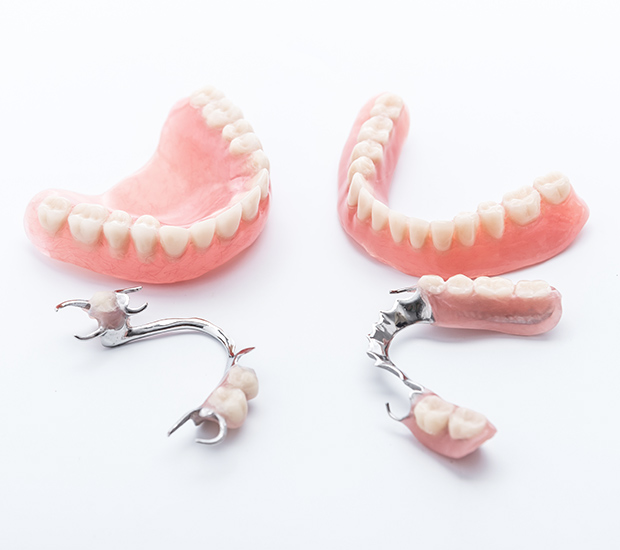 Dentures
Dentures are a trusted solution for replacing missing teeth. At Alameda Dental – Larisa Khmil DDS our patients frequently ask Dr. Khmil about dentures to determine if they are a good solution for their particular needs. As with any dental solution, there are pros and cons to wearing dentures and whether or not they will work for you depends largely on your lifestyle and the goals that you have for your appearance and the functionality of your smile.
Here is what you need to know about dentures in Colorado.
What are the types of dentures?
There are four main types of dentures: temporary, partial dentures, removable dentures and complete dentures.
Temporary Dentures
Dr. Khmil will often provide patients with temporary dentures while they are undergoing a cosmetic dentistry procedure to replace a missing tooth. Temporaries ensure that patients throughout the Aurora area have a natural looking smile while waiting for dental implants or a dental bridge to be completed. This is an excellent solution for when a tooth is knocked out during a sports game or in an accident. The temporary denture is secured in place with a metal wire that works like a retainer and can be taken in and out whenever you like. If you are looking for an immediate solution for replacing a missing tooth call 303-343-7072. Keep in mind that a temporary denture is only meant to be worn for a few months and will need to be replaced.
Partial Dentures
If only a few of your teeth are missing, partial dentures are a good solution for replacing them. Unlike a full set of dentures, these are held in place by a plastic base that is the same color as your gums. A metal framework is typically created in order to secure the base and prevent it from falling out. As long as you have natural teeth in place, you cannot wear a full set, so a partial set of dentures is necessary. We treat patients throughout the 80012 area that want to know if a partial set is better than a cosmetic procedure. They function differently because dentures are removable and cosmetic dentistry solutions are typically permanent. If you live in the Aurora CO area, call for your consultation and we can provide you with a list of options to consider.
Aurora Dentures and Repair
Complete Denture
When all of your teeth are missing, complete dentures can replace them. This is the type of dentures that you typically see in cartoons and movies. Technology has improved in recent years, making them more comfortable and natural looking than ever. Dr. Khmil can determine if this is the best way to replace your teeth or if an alternative solution would help you to achieve your goals. If you proceed with getting a complete set of dentures, your gums will be healed and ready in eight to 12 weeks after your teeth have been removed. When teeth are removed the bones and gums will start to shrink. By waiting for up to 12 weeks, you can be sure that your set of complete dentures will fit securely. Many patients throughout Colorado prefer not to wait and get immediate dentures. This solution does not require a waiting period, but there will be adjustments later on after the gums and bone have settled into their permanent size.
Check out what others are saying about our denture and partial denture services on Yelp: Dentures and Partial Dentures Aurora
How are dentures made?
In order for dentures to be created, patients in CO need to schedule a dental appointment. At this time, the dentist will examine your gums and other teeth to determine if dentures are the best solution for you and if so, what type. A mold will then be taken of your teeth and gums so that the dentures can be created in a dental lab. Typically, several molds or impressions will be made so that the dentist can determine how your jaw functions and moves. Using these impressions, the lab will make a set of dentures that looks natural and fits perfectly. If necessary, adjustments will be made. Dr. Khmil can discuss the process in more detail during a consultation.
Benefits of Dentures
Patients throughout the 80012 area like how convenient dentures are. Whether you need a full or partial set, they can replace teeth in a non-invasive way. There is no surgical element to worry about, and temporary dentures can be fitted immediately. This provides a quick and easy solution. If, however, you are looking for something that feels more natural, you should consider a cosmetic dentistry procedure.
Negatives of Dentures
The biggest challenge with dentures is that they do not feel like natural teeth. Patients of Alameda Dental – Larisa Khmil DDS tend to agree that while they are functional, you still have to think about them where other cosmetic dentistry procedures make it easy to forget you ever lost a tooth in the first place. Modern techniques have made dentures more secure and comfortable than they used to be, but they are still a foreign object in your mouth and can become loose when eating or speaking. If you are currently experiencing this problem, call Dr. Khmil at 303-343-7072 for a consultation.
At Alameda Dental – Larisa Khmil DDS, we offer 24-hour denture repair and regular denture care in Aurora. As a cosmetic dentist, we are experts at creating a beautiful and natural looking set of dentures that feels comfortable. Whether you need a full set, partial dentures, or a dental restoration in Aurora by way of a fixed dental bridge – we can provide you with the care you need. If you have never worn dentures before, there can be a surprising adjustment period as you get used to having a foreign object in your mouth. As a general dentist, we have some patients who complain of having difficulty eating and speaking for the first few days to a couple of weeks after getting new dentures. This is not a cause for panic. If you sense that they are too weighty or uncomfortable, we offer denture care in Aurora and can examine you and your dentures to make sure that they are fitting properly. In most cases, your gums simply need to adjust to wearing them. In time, the dentures will feel natural, and you can engage in normal activities without irritation or discomfort.
There are times, however, where discomfort can be a sign of you needing denture care in Aurora. If the irritation is persistent, give us a call at (303) 343-7072 and schedule an appointment with our 80012 dental office. We offer 24-hour denture repair so if something is broken, we can fix it immediately. We can also examine your denture and your gums to make sure that the fit is as it should be. As a family dentist, we know that it is natural for resorption to occur after tooth loss. This is when the body leaches calcium from the jawbone to be used in other areas. As it does, the jawbone loses bone density, and the face starts to change. Essentially, the jawbone shrinks. Naturally, this impacts how well the denture fits. As a dentist in Aurora, we can watch this and let you know if your discomfort is being caused by a denture that is too loose for your jaw. If it is, we can make adjustments or create a new set that fits properly. We are an emergency dentist office so even if your discomfort strikes on a Saturday – give us a call for an urgent appointment. We understand how challenging it can be to live with a denture that does not fit properly or is causing irritation and will work to solve the problem at once.
While providing denture care, we also offer a Botox® filler treatment in Aurora that has been proven to give relief to denture-wearers. Using Botox® can sometimes reduce discomfort while you are getting used to wearing a set of replacement teeth. Also, if you would like your dentures to be more secure, we can discuss the possibility of combining your dentures with the technology used to place dental implants for a more permanent solution to tooth loss.
Remember, that whether you are wearing a partial or full set of dentures you still need to come in for preventative dental care in Aurora. For those with partial tooth loss, this will help to make sure that you do not develop cavities or an infection that would require a root canal treatment in Aurora. Additionally, if you have remaining teeth that become damaged, we can restore them with dental veneers and improve their appearance with a teeth whitening procedure. Even if you do not have any teeth left, you should visit our Aurora, CO dental office once a year to have your gums inspected. It is still possible to suffer from gum disease when you wear dentures, and we can examine your gums to make sure that they are not inflamed or infected.
Alternative Options
Patients in Colorado have been enjoying the benefits of a dentures alternative. There is a procedure that combines implant dentistry with dentures. Those that need complete dentures can benefit by having a secure way to hold their dentures in place. If you live in the Aurora CO area, we will be happy to examine your gums and let you know if you are a good candidate for the procedure. In this scenario, an impression is taken of your mouth in order to create a denture that will be secured in place using implants. Once created, metal posts will be implanted under your gums, and the dentures secured to it. This way patients get the benefits of how quickly dentures can be created and the convenience of the stability that can only come from using implant technology.
How do I care for my dentures?
Every night you need to take your dentures out. We advise patients of Dr. Khmil to rinse them thoroughly then use a denture brush to remove any food particles before rinsing them again. You also need to brush your gums, tongue, and the roof of your mouth with a soft toothbrush and toothpaste. You can use an antiseptic mouthwash afterwards to kill any lingering bacteria and improve your breath. Your dentures should soak all night then be placed back in the mouth in the morning.